---
MARY BLACK: Circus
---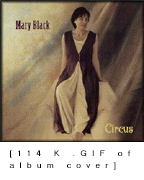 Original Issue date: 11 August 1995 (Ireland)
Issue Formats:
Cassette:

Dara ??

Vinyl:

Dara ??

CD:

Dara CD 074
meldac MECI-25031 (Japan)
---
Musicians: Declan Sinnott (electric, acoustic & slide guitars, sitar drone, harmony vocals), Pat Crowley (piano, Rhodes piano, accordian & harmony vocals), Dave Early (drums, percussion), Garvan Gallagher (bass guitar, double bass, electric bass), Frank Gallagher (synth, solo viola, whistle, harmony vocals), Carl Geraghty (baritone sax, tenor sax, soprano saxophone), Stephen McDonnell (trumpets & flugelhorns on "In A Dream"), Liam Bradley (harmony vocals on "Soul Sister"), Mary Black (tambourine, harmony vocals)
---
Track Listing:
The Circus - Noel Brazil (4:08)
In A Dream - Noel Brazil (3:39)
Wonder Child - Jimmy MacCarthy (3:55)
Soul Sister - Shane Howard (4:07)
All That Hammering - John Gorka (3:04)
Donegal Breeze - Kevin Doherty(4:41)
A Stone's Throw From the Soul - Noel Brazil (3:14)
Free As A Stone - Shane Howard (3:48)
Roisin - Noel Brazil (4:08)
Looking Forward - John Gorka (3:35)
Gabriel - Shane Howard (4:39)
Raven In the Storm - John Gorka & Geoff Bartley (3:47)
The Japanese pressing on meldac contains track #13 as follows:
Only A Woman's Heart - Eleanor McEvoy (3:49), featuring Emmylou Harris
Bill Shanley (guitar), Jim Tate (bass), Noel Eccles (drums and percussion), Mary Black and Emmylou Harris (vocals)
Engineered by Pearse Dunne
Remixed by Pearse Dunne
[Recorded at Windmill Lane Studios, Ringsend Road, Dublin, November 1994 and Spring 1995 except for tracks 6, 9, 11 & 12, recorded at Sulan Studios, Ballyvourney, Co. Cork, Summer 1994.]
---
Album Credits:
Produced by Declan Sinnott, assisted by Mary Black & Billy Robinson

Recorded and mixed by: Billy Robinson,
Assisted by: Rob Kirwan, Conan Doyle & Alistair McMillan.
Thanks to Chris & Tadhg at Sulan Studios.

Photography: Mike Bunn
Design: Derry O'Connor
Artwork: Dave Molholland
Colour Tinting: Marie Reilly, Photographics
Colour Separations by: Cosmon
Other album notes:
"This is the seventh solo album and for the first time I would like to express my long overdue thanks to: Hazel Reynolds, Janice L'estrange, Pat Armstrong, Paddy Prendergast, Steve Fernie, Ned and all at Grapevine, Mike Curb, Claire West and all at Curb Atlantic, Lois & Bill Straw, Yoko Nozaki, Mr. Fujimoto, Magne Sand and all at Arcade, Annie Gribbon, Anthony Murray, Ian Brady and all at Cats, Kevin Cunningham, Katie Brady, Cathy Sinnott, Dominique Farrell, Gary O'Connor, Doll, Marie and Maeve, Sean and Roisin Knox, Damien McCollum, Trevor Plunkett, Billy Adie and Morgan McCarthy."

"Special thanks to: J.P., Paul and Joe O'Reilly. All my family especially Mam and three great kids -- Conor, Danny & Roisin."

"To Dec, for the memories, magic and support over the last 13 years, love and thanks."
---
---
---
Additions, changes, comments welcomed - send mail to webmaster: webmaster @ house-of-music.com (remove spaces when you type the address)
---
Album artwork copyright © Dara Records / Dolphin Traders. Reproduced with permission of Dara Records, 1995
the contents of any recordings listed / referenced in these pages is copyright © the appropriate musical or publishing copyright owners.
Website pages copyright © 1995-2002 Carolyn Andre, including HTML, original scans and digitized artwork.
---