TIME FOR TOUCHING HOME

The Black Family
DARA RECORDS: Dara CD035
Release date: 1989 Dara Records
BLIX STREET RECORDS: 1990

---
Musicians:
Shay, Michael, Martin and Frances Black
Special Guests: Mary Black (vocals), Maire Bhreathnach (fiddle), Declan Sinnott (guitar and keyboards), Pat Armstrong (guitar), Garvan Gallagher (bass), Philip Begley (keyboards), Lloyd Brown (percussion), Sean Garvey (accordion), Peter Brown (Uilleann Pipes)
---
Track Listing
Alabama John Cherokee (trad. Arr. Black) (MV: Michael)
Rough Ride (Jimmy McCarthy) (MV: Frances)
Old Bones (Jez Lowe) (MV: Martin)
Farewell To The Gold (Paul Metsers) (MV: Michael)
Sweet Liberty (John Shields (Trad / Arr. Black) (MV: Shay)
Peat Bog Soldiers (Trad. / Arr. Black) (MV: Shay & Michael)
Weave And Mend (Mary Trupp / Ann Cameron) (MV: Frances; HV: Mary)
Time Alone (Nancy Griffith) (MV: Frances; HV: Mary)
The Song of the Diggers (Leon Rosselson) (MV: Michael; HV: Frances, Mary & Martin)
Since Maggie Went Away (Sean O'Casey) (MV: Martin)
First Christmas (Stan Rogers)(MV: Shay; HV: Frances & Mary)
Eliza Lee (Trad. / Arr. Black) (MV: Shay; HV: Michael, Mary, Martin & Frances)
This Love Will Carry (Dougie Mac Lean) (MV: Frances)
Album Credits:
Produced by: Declan Sinnot
Assisted by: Mary Black

Engineer: Philip Begley

Artwork by: Shay Kennedy
Photography: Colm Henry
Recorded at Sulan Studios, Ballyvourney, Co. Cork, June 1989
and
Lansdowne Studios Dublin, September-October 1989
---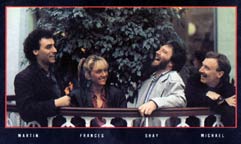 ---
---
Black Family:
Mary Black:
Frances Black:
---
Additions, changes, comments welcomed - send mail to webmaster: webmaster @ house-of-music.com (remove spaces when you type the address)
---
the contents of any recordings and videos listed / referenced in these pages is copyright © the appropriate musical or publishing copyright owners.
Website pages copyright © 1995-2002 Carolyn Andre, including HTML, original scans and digitized artwork.
---